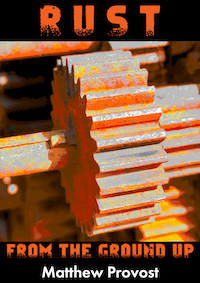 The Rust CLI Programming book by Matthew Provost
Rust is not just another programming language: it represents a new paradigm for building modern systems. Previous generations of languages are all based on early processor architectures and decade-old assumptions. Rust is a modern language built for modern architectures, bringing a new approach to building software: focusing on performance, reliability, and security from the ground up. Experienced programmers will recognize much of the syntax, but old patterns won't translate to new solutions.
Rust provides a unique platform not only to master a new technology, but also to understand the new foundations of software for modern systems. Every chapter in Rust From the Ground Up takes a practical, "show, don't tell" approach: examining the original BSD sources for a well-known Unix CLI program and introducing enough Rust to build a fully functional copy. This book flattens Rust's learning curve, demonstrating how to build powerful applications which handle realistic conditions such as edge cases and errors. After reading this book, you will have gained the confidence and intuition to understand Rust and the new approaches to modern software rooted in real world examples.